Establishment of JASFA
July 7, 2011(Thu)Establishment of JASFA event summary
Place : Gotanda yu-port 8F suehirono-ma
8-4-13 Nishigotanda, Shinagawa, Tokyo
Date : July 7, 2011 (Thu) 13:30~16:30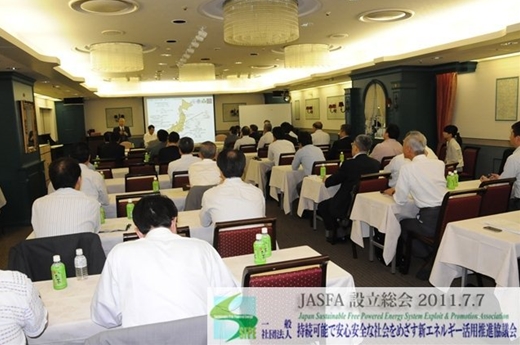 Address JASFA Chairman Yasutaka Iguchi.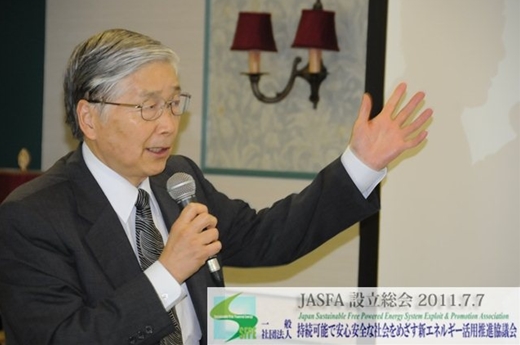 "Panel Discussion" JASFA Vice Chairman Yasuo Utsumi.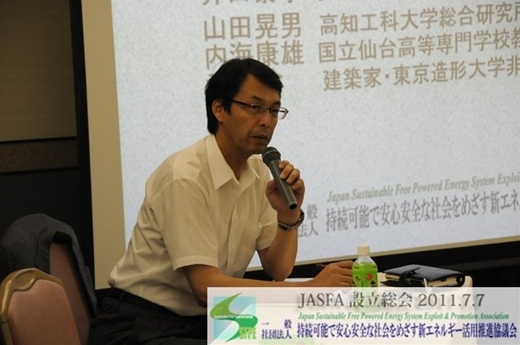 ・Member of established at the time.
1.Toshimitsu Ono: Mabuchi Engineering Co.,Ltd. Representative Director.
http://mabuchi-engineering.com/
2.Hitoshi Sakama : ECOMEA, Chairman.
http://www.ecomea.org/
3.Kenji Koizumi : FECOM, Chairman.
http://www.fecom.or.jp/
―― Our Children's Future ―――
After the disaster of the Great East Japan Earthquake, wo got to know the contradiction and our selfishness in our daily lives. We began to think that the time has come to change and improve our lifestyles and reconstruct our local communities. Thinking about the future our children , We should ask ourselves and consider how to make an "Idea" society and start from now on . Everyone says it must not be the same as before. The practical actions are needed and we must be responsible for that.
For this reason, aiming at establishing "Sustainable, secure and safe society", We utilize the intellectual property of industry-academia-govement collaboration, make practical plans for using "the new energy" and its technology to improve our individual lives and business entity. We introduce and apply it to create new communities and build new city areas. We find, evaluate and standardize the new technologies to develop long lasting societies. Japan sustainable free energy system exploit promote association has been established for the purpose of technical and economical promotion of the new energy.
・proposer
Chairman
National university corporation, Hirosaki University auditors
Yasutaka Iguchi
Vice chairman
National institute of technology Sendai college ,Deputy representative
Yasuo Uchimi
Vice chairman
Higashinihon Jutaku co.,ltd, Representative Director
Naoki Momono
Eco Professional Construction Methods Instruction Academy
Chairman
Hitoshi Sakama
Federation for Middleclass General Construction Enterprise
Chairman
Kenji Koizumi
Mabuchi Engineering Co.,Ltd
Representative Director
Toshimitsu Ono
Limited Company GMP Sobo
Representative
Keiichiro Maeda
Arai Denki koji
Representative Director
Hiroshi Arai
Suikoo
Representative Derector
Tsukasa Sawaguchi